Lots of Dancing. Wild Adventures. Cakey-Bakey Fun.
Welcome to Gabby's Dollhouse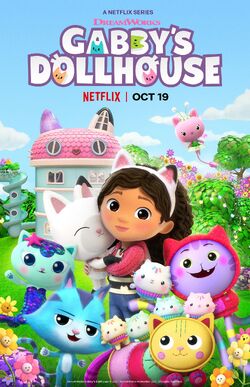 With a little magic and a new surprise every day, Gabby's Dollhouse is filled with mini-worlds, irresistible kitty characters, and super fun adventures! Join Gabby as she unboxes a brand new surprise every episode, shares her excitement with her best stuffed animal pal, Pandy Paws, and takes everyone on the next great adventure.
In season three, Gabby, Pandy Paws and all their kitty friends are jumping back into Gabby's Dollhouse! With cat-tastic dollhouse deliveries and a little bit of imagination, the friends will check-in at The Dollhouse Hotel, become medieval knights-in-training, visit the wild west, and even find a way for a plain old banana to turn a rainy day into a magical one!
From celebrated preschool creators and executive producers, Traci Paige Johnson (Blue's Clues, Daniel Tiger's Neighborhood) and Jennifer Twomey (Blue's Clues, Team Umizoomi), Gabby's Dollhouse is a mixed-media preschool series with a surprise inside! Follow Gabby as she unboxes a surprise before jumping into a fantastical animated world full of adorable cat characters that live inside her magical dollhouse
Season 3 premieres on October 19, 2021 on Netflix.
Welcome to Gabby's Dollhouse Wiki
We're a fan driven encyclopedia run and maintained by people just like you! Created by fans, for fans, Gabby's Dollhouse Wiki is dedicated to building a comprehensive and informative resource about the Netflix original series Gabby's Dollhouse.